Pittsburgh Restaurant Week is currently seeking sponsors for the Summer 2013 and Winter 2014 celebrations.
Community Exposure
Boost your brand awareness among Pittsburgh consumers by supporting the entire Pittsburgh Restaurant Week for maximum exposure prior, during and after the event through aggressive public marketing and media relations activities.Looking for a more face-to-face interaction with Pittsburgh foodies?  Investing in a Kickoff Party or Blogger Dinner sponsorship gives you direct access to the dining-elite during a restaurant week special event.
Exposure to the Restaurants
Trying to get your brand, product or service picked up by restaurants across Pittsburgh? Each restaurant owner receives a special "Restaurateur Media Kit" with details for each restaurant week. Inclusion in this special distribution kit and exposure at the Wrap Party provide direct access to Pittsburgh Restaurant Owners.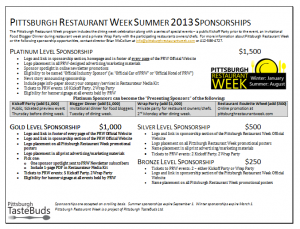 Base Sponsorship of only $250 includes:
Logo and link in sponsors section of the Pittsburgh Restaurant Week Official Website
Name placement on all Pittsburgh Restaurant Week promotional posters
Two tickets to a PRW event.
Upgrade the Base Sponsorship to maximize your exposure and meet the needs of your organization with some of these additional benefits:
What does exposure on the website get you?
For Winter 2013, the Pittsburgh Restaurant Week website had over 289,000 pageviews. Website performance statistics are calculated as a four-week span, including the dining week (191K), plus the three preceding weeks (98K). Additional web site statistics are available upon request.
Contact info@pittsburghrestaurantweek.com to start building your custom sponsorship package today.